South Africa - Kruger Park - House in self-catering

Located in a unique private nature reserve bordering the Kruger National Park
New, nice and big, luxurious, fully equipped for 10 guests (air con, splash-pool …)
Many activities available around, including the visit of the famous Kruger Park
"Les trois marulas" is the name of the house... because we've got three marulas on the stand, that mythic tree whose mature fruits make the elephants drunk.
At a one hour drive from the Kruger Int. Airport of Nelspruit, 30 km from the borders to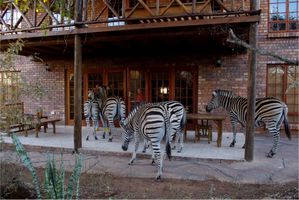 Mozambique and Swaziland, Marloth Park is an amazing holiday town situated next to the Crocodile River, which forms part of the southern boundary of the Kruger National Park. There are no fences in Marloth Park allowing wild animals such as kudu, wildebeest, impala, waterbuck, zebra, giraffe and many more to roam about freely.
Feed a zebra while having your breakfast!
All commodities are available in the Marloth Park trading centre (1.5 km from the house): grocery, butchery, restaurants, filling-station, ATM, hardware, car renting, car washing… There also are a large swimming-pool and a tennis court in the Municipality, and it is possible to play golf in both cities next to the Park (25 km).
Many activities are possible: breakfast with champagne in the Lionspruit, visiting the Kruger Park with a Guide and his special open car (or even by your own with your own car, 4x4 not necessary), day trip to the Mozambique and the Swaziland, horse riding, fishing, hunting… You will easily understand why we fell in love with this place!
The house is safari style, with a magnificent thatch roof. It can accommodate 10 guests in 4 en-suite bedrooms (4 bathrooms) each individually air-conditioned and 1 safari-room (even on the main balcony or on a mezzanine inside the house).
Outside "Les Trois Marulas" has a splash pool to relax in during the hot summer months. You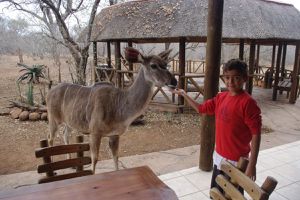 will enjoy the nice and large "lappa" (BBQ place - see pictures). Giraffe, kudu, impala, zebra, warthog, wildebeest and all kinds of birds are regular visitors. Big Five sightings are a common occurrence along the banks of the Crocodile River, only 200 m from "Les Trois Marulas".
Smaller animals often graze near the house, where guests can be sure to meet wildlife ranging from kudu and warthogs to giraffes and zebras. You will also play "pétanque" (French boules) and tennis (4 rackets available).
We recommend to go walking along the river, just before the sunset, watching hippos, elephants, lions, buffalos, crocodiles, and many other animals.
See pictures in the 4 "albums photos" :
- inside the house ("maison intérieur")
- outside the house ("maison extérieur")
- wild animals in Marloth Park ("animaux à Marloth")
- a day trip in the Kruger Park ("une journée au kruger")
Price for the whole house, including water, gas, electricity, cleaning before and after you stay : the price depends on the number of guests, the length of the renting and the period. The price is about :
1000 €/week up to 5 people
1200 €/week for 6 or 7 people
1400 €/week for 8 to 10 people.
Contact us if you want more or less days, and other conditions.
Availability : please, contact us.
All linen and towels are provided, the house is fully and luxuriously equipped.
Internet : you will be given a 3G Internet device (and a cell phone if you need) when you enter the house. Internet is also avaibale at the retaurant called Phumula Lodge, close to the City Center, and quite cheap.
We have arranged some nice artistic works and handicraft objects in the house, coming from many different and interesting countries, such as Yemen, Mauritania, Ivory Coast, Thailand, Mali, Ethiopia … Please, respect them.
The owner is French; the contact in Marloth Park is a South African nice woman.
Location with Google Earth
Check the exact address"Marloth Park, Mpumalanga, 2873 Tarentaal Ave", you wil see it close to Crocodile River and the Kruger Park.
Miscellaneous
Pets are not allowed in Marloth Park. You would easily understand why...
Marloth is a reserve for plants and animals, please respect them.
The name of the Park comes from the plant called Aloe marlothi, a lovely endemic cactus,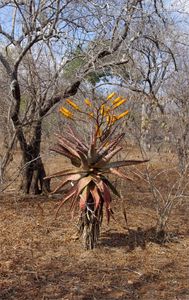 flowering in July and August.
House area : 305 sqm ; end of building : July 2010
Distances : to Jo'Burg Int. Airport 430 km ; to Nelspruit Int. Airport 100 km ; to Maputo and the Indian Ocean 100 km ; to Swaziland border 50 km ; to Crocodile Bridge Gate (main entrance of the Kruger Park) 25 km ; city and trade centre 25 and 43 km.
Please, contact us ("Nous contacter") for more information.